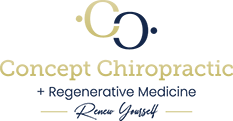 BOOK A CONSULTATION
At Concept Chiropractic + Regenerative Medicine, we offer a diagnostic ultrasound with every consultation. By using ultrasound, we effectively reduce the "guesswork" that other doctors struggle with without the modern technology we offer.
Do not delay, schedule your
Consultation today!
Getting The Proper Treatment
The business of beauty is booming and the range of treatments run the gamut. Some seek procedures that are beyond restoring youth and that sometimes have very risky and inconsistent outcomes. With so many quick, permanent fixes, often individuals who seek these treatments walk away with an unnatural look that is hard to reverse.
Concept Chiropractic and Regenerative Medicine offers anti-aging treatments for a wide range of aesthetics, including facial rejuvenation and hair loss. At CCRM, our goal is to "modify or slow down" the aesthetic impact of aging. It is our mission to provide regenerative medicine treatments that may help you look and feel beautiful at any age.

Why Go With Concept Chiropractic and Regenerative Medicine?
At CCRM our approach to beauty and aesthetics is to focus on the natural ability to heal and regenerate. Instead of risky surgical procedures and costly treatments that need regular upkeep, CCRM's treatments and line of natural biologic products, used alone or as an adjunct to other products, may allow patients to heal faster and experience longer lasting results. Additionally, Anti-Aging treatments offered by CCRM may dramatically reduce swelling and inflammation, limiting downtime and discomfort while kickstarting the healing process.
Watch our FREE educational webinar!
 Click the button below to watch our FREE educational webinar to help you better understand non-surgical orthopedic treatments and how Concept Chiropractic + Regenerative Medicine can help.
Who wants to go through surgery?
Watch our free informational webinar that discusses the benefits of regenerative medicine and how to avoid surgeries..
We'll discuss the various minimally-invasive and non-surgical treatment options that are available!
I used to travel a lot and sit in front of computers for long periods of time. The environment here is very friendly, Dr. Hegazi actually listens to me, and my chronic lower back pain has dramatically improved.
I've been an athlete for most of my life and now sit in front of a computer all day and had a lot of neck pain for 2 or 3 years. I decided to come to CCRM for treatment, which has resulted in me being almost completely free of any neck pain.
I've had ongoing lower back pain and it has gotten worse over time. Dr. Hegazi and his staff have been amazing. Within 2 visits my pain had significantly reduced. They treated me like family.
Looking for an alternative to surgery?
Book a NO PRESSURE consultation today.